Bathroom Mirrors
Is your bathroom mirror cracked or cloudy? Make sure you can see your reflection clearly by calling AIM Glass & Mirrors to repair or replace your bathroom wall mirror right away. We're pleased to provide repair, replacement, and installation of bathroom mirrors in both residential and commercial settings, so whether you need a new mirror as part of a home renovation or you need to fix cracks in your restaurant's bathroom wall mirrors to protect your customers and ensure that your company presents the best possible appearance, you can give us a call. We'll schedule the first available appointment with one of our professionals, and we'll give you a free estimate for the services you need!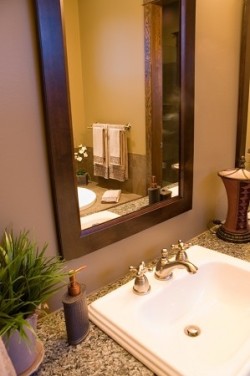 At home, your bathroom mirror plays an important role in your daily routine. From putting on makeup to doing your hair to checking out your outfit before you leave the house, you need a mirror that can help you look your best. Meanwhile, mirrors in your business's bathrooms provide a crucial service to your customers or clients. Unfortunately, a foggy or damaged bathroom wall mirror can't do the job that it's intended to do. That's why it's so important to bring in a mirror repair or replacement pro like those at AIM Glass & Mirror.
We're a comprehensive mirror company serving the entire Simi Valley area. While some companies only offer certain sizes and types of bathroom mirrors, AIM Glass & Mirrors can custom-cut mirrors to your exact specifications. Need an above-the-sink mirror to fit an unusually shaped space? We've got you covered. Want bathroom wall mirrors that match your café or bar's eccentric décor? We're the mirror company to call. Whatever type of custom mirror you require, we're more than capable of giving you great results.
Custom Mirrors
We use only top-quality materials to custom-cut mirrors to the dimensions you need. We can finish the edges of your custom mirror however you like, giving you options including beveled edges, polished edges, pencil polished edges, and much more. We can give you mirrors cut to size to show full-body views as well as mirrors to go over a sink or vanity. And of course, we can custom-cut a mirror into a wide array of shapes to give your home or business bathroom a unique flair.
To learn more about getting a custom-cut mirror in your bathroom, or to hire us to replace or repair a cracked or broken mirror, call AIM Glass & Mirrors today. We take great pride in the quality of our workmanship, and we're fully licensed and insured, with two decades of experience in the custom mirror glass industry. You won't beat our experience or our commitment to customer satisfaction. We look forward to hearing from you! 
mirror company
bathroom mirrors
bathroom mirror