Commercial Glass
Do you need commercial glass services for your business in the Simi Valley area? Whether you need to replace a broken storefront window or you need repairs to the commercial glass door at your office building, AIM Glass & Mirrors is the company to call. We're a licensed and insured commercial glass company with 20 years of experience in the industry. We're pleased to repair and replace commercial windows, doors, and other glass surfaces! Call or e-mail us today to learn more about how we can serve you.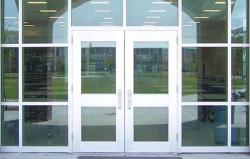 Whatever your glass needs, we've got you covered. AIM Glass & Mirrors is fully equipped to provide you with glass fixtures and panes that will make your business look its best. Depend on us to install, repair, or replace your:
Commercial entrance doors
Commercial windows
Storefront glass
Glass displays and shelves
Glass partitions
Sliding glass doors
Bathroom and dressing room mirrors
Wall mirrors (for gyms and dance studios)
And more!
We can custom-cut glass panes to any size and shape you require. In terms of commercial door and window jobs, we don't just fix or replace the panes—we can also do hardware repair, frame repair, and much more. If you have a broken glass jewelry display, want to upgrade your bakery's glass countertops, or need new commercial entrance doors as part of a building remodel, AIM Glass & Mirrors is your best bet in Simi Valley.
20 Years of Commercial Glass Experience
One of the things that sets AIM Glass & Mirrors apart from other local commercial door and window companies is our high level of experience. We've been helping local business owners with their office, restaurant, and storefront glass needs for more than two decades. Those years in the industry have given us extensive knowledge and skill that we'll put to work in your commercial space. We can help you select the right commercial glass door or other product for your specific needs and budget, and you can always expect us to install or repair your glass properly and safely.
From insulated storefront window glass to decorative and functional commercial glass doors and beyond, AIM Glass & Mirrors wants to be your only source for glass in Simi Valley and environs. If you need our expert services, pick up the phone and call us today! We'll be happy to give you a free cost estimate for the services you require. Our quality craftsmanship, wide array of glass products, and professional customer service make AIM Glass & Mirrors the smart choice for commercial glass doors, windows, displays, and whatever else your business needs. We'll give you our best, so you can continue to give your customers your best. 
glass panels
window glass
glass companies