Glass Cutting Service
Do you need glass panes for an unusually shaped window in your home? Are you ready to replace the scratched-up glass tabletops at your restaurant? If you need custom glass for your home or for any sort of business, turn to AIM Glass & Mirrors. We're the glass company to trust in the Simi Valley area for custom-cut glass surfaces. Whatever size or shape of glass you require, we can meet your needs. We aim to give our customers the best when it comes to both aesthetics and functionality, and no glass-cutting job is too complicated for our experienced professionals. Learn more about what sets us apart from other local glass companies and tell us about the glass products you need by calling or e-mailing AIM Glass & Mirrors today!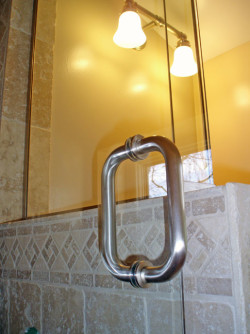 We offer custom glass cutting services for a wide array of situations. Call us if you need custom-cut glass for:
Windows
Doors
Display cases
Shelves
Mirrors
Tabletops
Countertops
Picture frames
Decorative panels and partitions
And more!
Many glass companies only offer standard-sized glass-panes, or can only cut glass into certain shapes and sizes. At AIM Glass & Mirrors, our goal is to give you whatever custom glass you desire. We have 20 years of experience in the glass-cutting industry, and those years on the job have given us extensive knowledge and skill. We're able to meet your specifications exactly, while also giving you an attractive and durable finished product, complete with the edgework of your choice.
A Licensed & Insured Glass Company
Whenever you're working with glass, you want to be sure the technicians handling custom glass cutting and installation know what they're doing. After all, broken glass is dangerous. In Simi Valley, you can trust AIM Glass & Mirrors because we're completely licensed and insured for every glass-cutting service we offer. We'll get the job done right, never leaving any jagged edges or other hazards that will put you, your family, or your customers at risk. You can count on us to keep you safe.
Book the glass-cutting service you need today by contacting AIM Glass & Mirrors. We'll be happy to give you a free cost estimate for your custom glass panes or fixtures, and we'll provide you with customer service that will make you feel like a VIP. From your first phone call until your glass-cutting job is done, we'll aim for nothing less than your total satisfaction. Make us your glass company of choice, and enjoy the benefits! 
Glass Cutters
Specialty Glass Company
Cut Glass Company
Custom Glass Replacement