Glass Shower Doors
Are you considering replacing your old, mildewed shower curtain with stylish and durable glass shower doors? Are your existing shower glass doors cracked or broken? AIM Glass & Mirrors is Simi Valley's choice for glass shower door installation, replacement, and repair. We offer top-quality workmanship from experienced shower glass door specialists who care deeply about your satisfaction. For new installation, we'll work with you to select the right shower door glass for your décor and practical needs, and we'll install every component properly to ensure your safety and the doors' long-term performance. For repairs to existing shower glass doors, we'll take immediate and effective steps to fix any issues you're having, including broken and loose panes. Call today to schedule your appointment!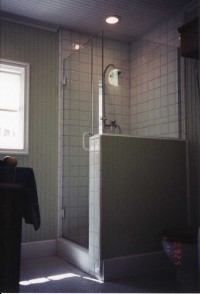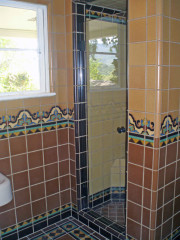 AIM Glass & Mirrors is a comprehensive glass shower door company, offering product options including:
Framed glass shower doors
Frameless shower doors
Tinted shower door glass
Patterned glass
We'll listen to your description of your needs and strive to meet them 100%, whether you need sturdy framed glass showers doors to ensure your children's safety in the tub or you want custom-cut seamless shower doors to enhance a beautiful and elegant master bathroom. You can count on AIM Glass & Mirrors for high-caliber craftsmanship and products that will stand the tests of time and use.
Frameless Shower Doors
More and more homeowners are opting for frameless glass shower doors as a way to add beauty as well as function to their bathrooms. Frameless glass shower doors, also known as seamless shower doors, are strong panes of glass that swing open on a hinge, allowing you to step into the shower easily. They can be cut into custom designs to match the look or space constraints of your bathroom. If you're looking to highlight your shower's architectural features or beautiful tile, seamless glass shower doors might be your best bet. Contact AIM Glass & Mirrors to learn more about the options available to you.
AIM Glass & Mirrors is fully licensed and insured for your protection and peace of mind. We have 20 years of experience installing and replacing glass showers doors, and we'll put every bit of that experience to work for you to make sure you're pleased with your results. In Simi Valley and throughout the local area, for both residential and commercial customers, AIM Glass & Mirrors is the answer for attractive and durable shower glass doors. Get your free cost estimate for repairs or installation by calling or e-mailing us now! 
glass showers doors
seamless shower doors
shower glass doors
frameless shower doors