Wall Mirrors
In addition to installing and repairing bathroom mirrors, AIM Glass & Mirrors is pleased to provide wall mirror services. Do you want to install a home gym, complete with a large mirror to keep an eye on your form as you exercise? Do you own a business that relies on wall mirrors to meet your customers' needs, such as a retail store with mirrors in the dressing rooms and on the sales floor, or a dance or yoga studio? You've come to the right place. We have 20 years of experience working with large wall mirrors, which means you can trust us for safe, attractive, and durable mirrors that will stand up to years of use. We bring together quality products and exceptional craftsmanship, whatever your wall mirror needs. Call or e-mail us today to get more information about our services!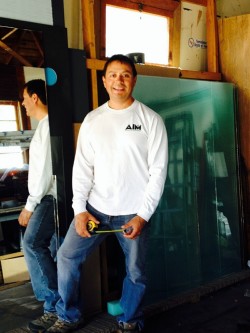 When you need to install a full-length mirror or a large wall mirror, it's important to entrust the job to a professional who has what it takes to get the job done right. In Simi Valley, AIM Glass & Mirrors is that company. Thanks to our decades of experience, we have the accumulated knowledge and skill to give you results you'll love. We're also fully licensed and insured to repair and install large wall mirrors, so you can breathe easy knowing that your home or business is in good hands.
At AIM Glass & Mirrors, our top priority is giving you great workmanship. We'll work hard to meet your needs whatever they happen to be. Contact us to assist you with:
Bathroom mirrors
Full-length wall mirrors
Decorative wall mirrors
Dressing room mirrors
Retail store mirrors
Dance mirrors
Gym mirrors
Mirrored walls in other settings
And much more!
Gym and Dance Mirrors
Gym mirrors are ideal for helping gym users mimic instructors and ensure that their movements are correct and safe. Dance studio mirrors help training dancers perfect their form and learn choreography. Not all Simi Valley–area mirror companies offer services related to gym wall mirrors and dance studio mirrors, but AIM Glass & Mirrors does just that. When you need repairs for a cracked or broken mirror, replacement of a mirror that's foggy or irreparably broken, or installation of a new large mirror for any purpose, contact us right away.
When you contact AIM Glass & Mirrors, we'll be happy to give you a free cost estimate for the full-length mirror or mirrored walls you need. We'll cut your mirrors to size promptly and accurately, so you can be sure the finished product will be beautiful and perfect for your space. Make us your go-to mirror company, and enjoy our commitment to quality and customer satisfaction! 
Wall Mirrors
Wall Mirror
Large Mirror