Window Glass Replacement
 There are many reasons why you might need glass replacement in the windows of your home or business. Maybe storm debris shattered a window, and you need a new pane. Maybe your windows are cloudy and scratched due to age. Maybe you're noticing drafts inside, and you suspect that you need to replace the window glass or frame. Whatever your specific situation, if you live or work in Simi Valley, you can count on AIM Glass & Mirrors for all of your glass window repair needs. We're a licensed and insured commercial and residential window repair company, and we're more than ready to provide you with the help you need. Call today to learn more!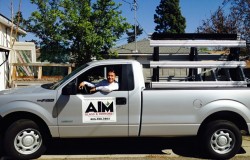 AIM Glass & Mirrors is pleased to provide comprehensive broken window repair and window pane replacement services, thanks to our 20 years of on-the-job experience and training. Unlike some commercial and home window repair companies, we don't just focus our efforts on the glass. While we can conduct window pane repair and replacement with ease, we're also available to repair and replace your:
Frames
Sashes
Hardware
Screens
In short, whatever type of glass and windows repair you need, AIM Glass & Mirrors has you covered. We even offer glass door repair for full glass doors and doors with small panes inset into them. When it comes to window pane replacement, we offer a broad selection of glass options. Come to us for glass replacement to upgrade your old windows with energy-efficient insulated glass. Our low-E coated glass will reflect and absorb heat without affecting the appearance of your windows, helping you to lower your energy bills and make your space more comfortable year-round. We also offer tinted, patterned, and colored glass, if you're looking to replace the window glass in your building with any of these styles.
Free Estimates for Glass Window Repair
Have you been putting off booking home window repair for a cracked pane or replacing the window glass at your business with insulated glass, all because you're worried about the cost? With AIM Glass & Mirrors on the job, you can stop worrying. We're pleased to offer free cost estimates for all of our services, including glass windows repair and glass door repair. We'll assess your needs and give you an approximate cost that covers both our labor and any new products we'll install. With a free estimate, you can plan ahead for this valuable service.
In Simi Valley and the surrounding area, AIM Glass & Mirrors is truly your best bet for broken window repair and glass replacement. We care deeply about the quality of our workmanship, and we'll always give you our best. Call now to schedule your appointment for commercial or residential window repair! 
Window Glass Repair
Replace Window Glass
Window Glass Installation